LISTEN NOW
The Freedom Files Podcast Episode 54: David Bahnsen
Another Year, Another Ridiculous Obama Budget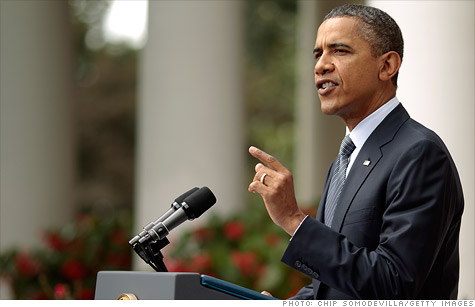 This morning, President Obama proposed a budget for the 2013 fiscal year. Even though more than one thousand days have passed since the Senate passed a budget, each year the Obama administration continues to suggest one. Last year, the president's budget proposal was unanimously rejected by a vote of 0-97, which means that not even a single Senate Democrat was willing to vote for it. Frankly, that's a little ridiculous. Is this year's budget plausible enough to garner even a single "yea" from the president's supporters in the Senate?
It's doubtful. Admittedly, congressmen dread controversial election year votes, so Senate Democrats might try to postpone the vote or even avoid it entirely. More importantly, this budget won't actually please anyone. Representative Emanuel Cleaver (D-MO), chairman of the Congressional Black Caucus, has already labeled the budget a "nervous breakdown on paper." It's a calculating bill that reeks of election year politics, with plenty of giveaways targeted toward specific portions of the electorate. Simply put, Obama is following the Franklin D. Roosevelt model of vote-buying in order to be re-elected. As FDR's close advisor and fellow New Deal architect Harry Hopkins explained, "We will spend and spend, and tax and tax, and elect and elect."
What are the important facts about this new, $3.8 trillion dollar budget? It would burden the struggling economy with an astonishing $1.4 trillion dollars in new taxes. Year-to-year federal spending would grow by nearly $200 billion dollars in 2013. $476 billion dollars would be spent on transportation over the next six years, while defense spending would be $487 billion dollars less than previously planned over the next ten years. More than $800 million dollars would be spent on foreign aid specifically targeted toward countries participating in the "Arab Spring". Overall, this budget would add more than $7 trillion dollars to the public debt from 2013 to 2022.
In 2009, his first year in office, President Obama promised that he would cut the deficit in half by the end of his first term. During 2008, the deficit was only $458 billion dollars. However, the projected deficit in 2012 will reach $1.327 trillion dollars for a record-setting fourth straight year of trillion-dollar deficits. Instead of halving the deficit, the president has nearly tripled it since taking office.
Less than a year ago, in what amounted to an early campaign speech at George Washington University, Obama demanded $4 trillion dollars in deficit cuts over the next twelve years. However, as Senate Budget Committee Republicans have pointed out, there is barely $300 billion dollars in true deficit reduction in the budget behind the gimmickry and accounting tricks. Unless Obama plans more than $3 trillion dollars in cuts to the deficit over years eleven and twelve, this is yet another broken promise by the president. Realistically, that part of the budget is just a feeble appeal to moderates in order to make it look as though the president is actually concerned about the massive $15 trillion dollar debt and the annual trillion dollar deficits. Since taking office, the President has overseen a rise in the public debt from about $10 trillion dollars to more than $15 trillion dollars, a staggering 50% increase.
The budget begins with a self-congratulatory essay praising President Obama, which is titled "Building a Strong Economy." Really, that's the problem. President Obama sincerely believes that it's the federal government's job to "build" the economy and that this budget is the blueprint for how to do it.
That's nonsense. The economy is built by the American people, by hundreds of millions of free individuals acting in their own self-interest, creating wealth through innovation and entrepreneurship. That's the classic story of American prosperity, not a top-down, centrally-planned economy "built" by the federal government.
President Obama's budget simply isn't a realistic approach to either the sluggish economy or the debt. America needs to unshackle the private sector and small business in particular from over-regulation and over-taxation, while also balancing the budget and beginning to pay down the debt. The grassroots-generated Tea Party Budget is a realistic, significant effort to accomplish just that by freeing up the private sector to create jobs, cutting spending by $9.7 trillion dollars over the next ten years, and balancing the budget in four years.
If you would like to learn more about the Tea Party Budget, here is the link.